Michael Scott 1992 Buick Roadmaster Station Wagon
Sold December 18, 2007 for $1,500
For Sale as of December 16, 2007
$1995, 116,000 miles
26 miles per gallon highway, 17 to 11 miles per gallon local driving depending on conditions and it uses premium fuel. It weighs 4400 pounds, so in stop and go traffic it uses more fuel.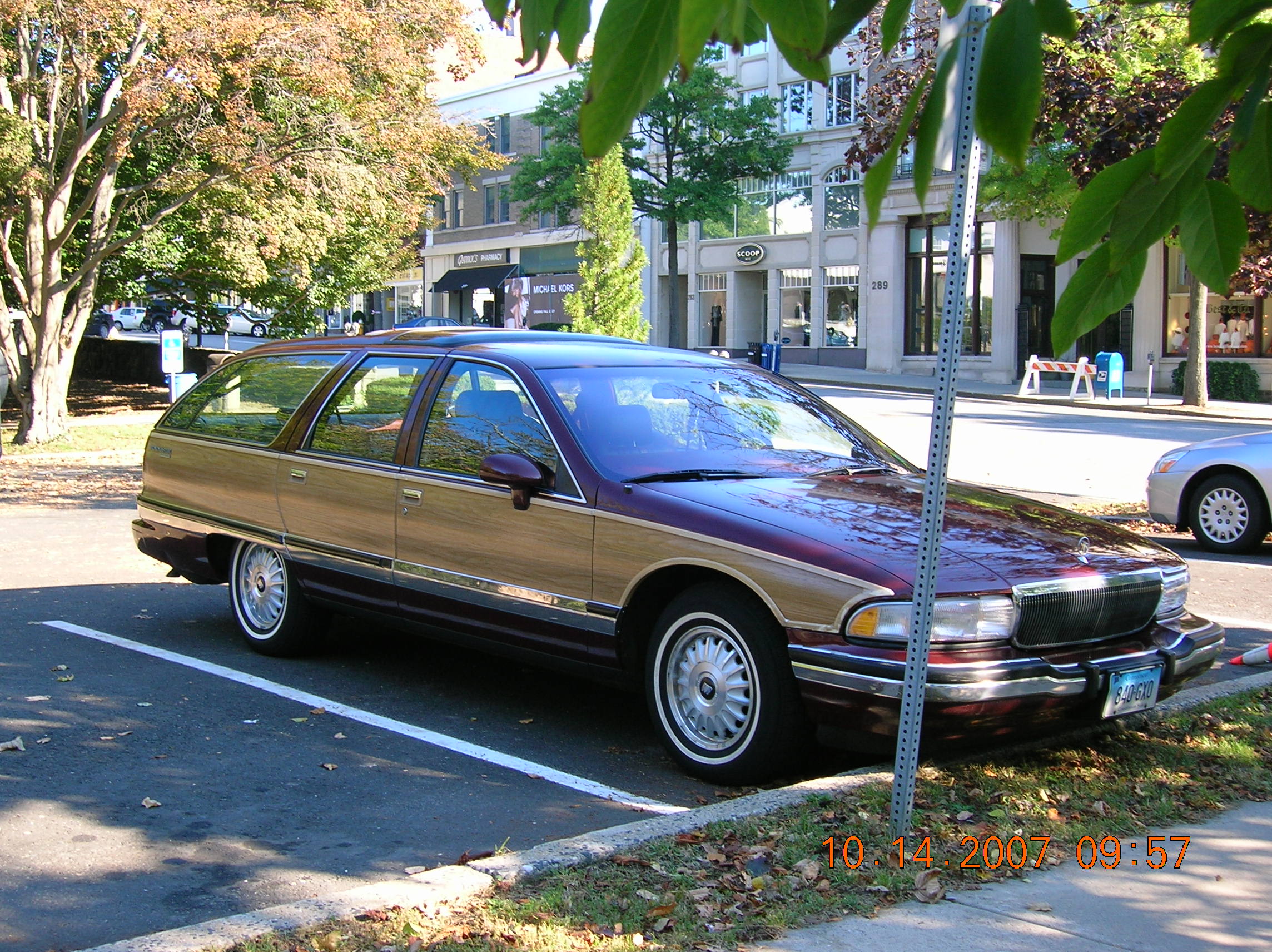 Contact:
Michael Scott
71 Vinci Drive
Apt. # 206
Greenwich, Connecticut 06830-2902
203-531-6754
203-532-5474
Vehicle Identification Number "1G4BR8371NW409761"
Reason for sale, I was given another car. As far as I know the Buick wagon is in great shape.
The only difficulty I know of is if the driver's side window is lowered all the way, it sometimes does not go back
up right away, but usually does after a few tries, so I generally never lower it more than half way to avoid the problem.
I am the second owner, and the car was originally sold at Putnam Buick in Greenwich, Connecticut after it was used in the Buick Open that year. It was used by a real estate sales person, so it was well maintained.
Has Boat Trailer Hitch. Mechanics manual and diagnostics device included. MP3 player not included. I have a waiver on the Connecticut emissions test until June 2008, but with the new Oxygen Sensor and the repair of the Map Sensor vacuum line, and air filter replace, there should be not problem with the emissions. Greenwich Automotive Services Exxon service station can check the Emissions for $20, but not do the Connecticut test. One can get a yearly Connecticut emissions waver, if one is low income. Judging by the cars performance, there should be no problems with the emissions. If one did the Connecticut test and failed, then one would lose the waiver until June 2008. The computer diagnostics device shows no error codes. The car does not consume oil, since the oil sending unit was replaced.
http://mikelouisscott.com/buick-051507/
Original owner purchased from Putnam Buick in Greenwich, Connecticut in
1992 after it was used for the Buick Open. Original retail price about $26,000
Automatic Transmission replaced under warranty at 59,000 miles
Brakes redone at 85,000 miles
Dashboard fan motor replaced at 90,000 miles
About 12,000 miles on the most recent set of tires
Last Tune Up at 110,000 miles
$9 Stop and Shop April 24, 2007, two 12 ounce containers of Unifide Iso-Dri Fuel System Dryer and Pennzoil concentrated Fuel System Cleaner
$1000 Purchased April 21, 2007 for $1,000 from original owner with 113,800 miles
$20 Connecticut Vehicle Transfer
$60 Connecticut Sales Tax
$25 Connecticut Title
$10 Connecticut Inspector Fee
$3 Medallion Auto Center April 22, 2007 two front parking light bulbs
$200 Greenwich Automotive Services Exxon Station April 24, 2007 new Deka battery and test charging system, oil and filter and lubricate and fluid check, State Emissions Pretest failure, Tire Rotation at 113,800 miles, recommended $500 Tune Up, $200 air conditioning recharge, $150 Fan Belt replacement, $200 automatic transmission service.
$20 Failed Emissions Inspection Fee at Putnam Avenue Shell Station April 25, 2007 and May 10, 2007
$8 April 26, 2007 Gateway Auto Supply rear windshield wiper
$31 April 28, 2007, Gateway Auto Supply locking gas cap and two quarts of Castrol 10W40 oil
$17 Charles Stuttigs lock smith April 30,2007 two ignition keys, two gas cap keys, two door lock keys, two The Club bar keys, and Buick Key fob
$6 Gateway Auto Supply, May 14, 2007, STP oil treatment and two 2 inch diameter hose clamps
$88 JC Whitney Auto Parts, May 15, 2007, 1992 Buick Roadmaster Haynes repair manual, pre-heater hose, Air conditioning retrofit kit with three cans refigerant, refrigerant with leak detector, air conditioning maxi-seal 2 step leak sealer
$25 Medallion Auto Parts May 16, 2007, 20 ounce of Techron fuel injection cleaner and 16 ounce of Emissions Test for Dummies Cure
$5 Gateway Auto Supply May 23, 2007 PCV Valve
$3 Gateway Auto Supply May 31, 2007 3 rear license plate bulbs or parking light bulbs
June 21, 2007, Amazon.com: Virtual Reality Sound Labs MP3/WMA FM Modulator with SD Card, USB Port, and Audio Input: Automotive for $44.99 with free shipping. There will be a slight wait in the shipping until after August 1, 2007, but there was a $10 promotional credit on it, so the final cost is $34.99
512 megabyte SD card from www.newegg.com $20 April 2006
June 23, 2007 ordered from www.jcwhitney.com with free shipping on over $50 order through June 28, 2007 using promo code "SEGMFX7 " a Porta-Jump Porta-Jump Emergency Jump Starter : JC Whitney: Auto Parts & Accessories for $11.99, a JC Whitney: Auto Parts & Auto Accessories for Cars, Trucks, Motorcycles, Jeep and More a two pack of G.E. Super Blue Halogen Dual Beam for $35.99, a JC Whitney: Auto Parts & Auto Accessories for Cars, Trucks, Motorcycles, Jeep and More a Wix Air Filter for $6.99 for $54.97 with free shipping
Final Detail S/2 Top Shelf Series Instant Spray Wax at QVC for two 22 ounce spray bottles for $17.68 both and $5.72 shipping and $1.40 tax for $24.80 total
2 gallons of 50%-50% Peak antifreeze for $8 from Walgreens October 29, 2007
Kennebunkport, Maine "KPT" Lobster oval decal $2
two Strong Arm Liftgate Window Lift Supports for $24.99 each LIFT SUPPORTS - GAS-CHARGED REPLACEMENTS - JCWhitney Replacement auto parts Parts less 15% discount of $7.50 with promo code "BESHKX7" plus $8.99 standard shipping for $51.47 total
replace oil sending unit $102.50, oil change and filter replace, top off vital fluids, lubricate chassis, perform 20 point maintenance check $37.92, supply charge $5.62, sales tax $8.76 for $154.80 total. Done at Greenwich Automotive Services Exxon station, December 5, 2007.
Gateway Auto Supply STP oil treatment $3.99, Gumout Concentrated Fuel Injector Cleaner $3.99, two quarts of Castrol 10W 40 oil $3 each, and 84 cents sales tax for $14.82 total.
Two Week Advertisement in the Greenwich Time Classified Ads $60
Subtotal: December 5, 2007 $2891 115,740 miles